Tour of Britain: Liverpool hosts Tour of Britain Grand Depart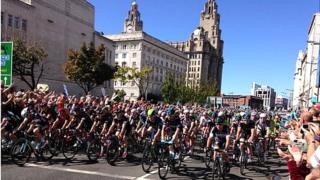 Thousands of spectators lined the streets of Liverpool to watch some of the world's most famous cyclists as the Tour of Britain got under way.
The city hosted the Grand Depart, which saw riders set off on a looped circuit around the city centre.
Huge crowds gathered and cheered as the riders began eight laps from the waterfront out to Sefton Park and back.
The race will go on to follow a further seven stages around the country.
Riders taking part include household names Sir Bradley Wiggins and Isle of Man-born Mark Cavendish - who chose to compete despite still recovering from his Tour de France-ending crash in Harrogate.
Cycle fans Chris Battersby and Gabby Haigh, from Sefton Park, Liverpool, were among the crowds.
Chris said: "My mum's Manx, so we're supporting Cav. He crashed out right in front of us in Harrogate, so it's great to see him back. It would be great to see him win today."
Hoylake-born veteran cyclist Chris Boardman, who won Olympic gold in 1992 sung Liverpool's praises ahead of the race.
"We've got such iconic landmarks in Liverpool - the whole seafront is littered with them," he said.
Also taking part was Mark McNally, of Crosby, Merseyside, who said: "You don't often get to race around your local neighbourhood. Each year it's got bigger and bigger.
"The top riders in the world are here. It's an opportunity to see some of the all-time greats of the sport."
On the nature of the urban course, he added: "It's laps around the city centre. Sometimes it makes it more exciting as you're always in and out of corners, and it makes the racing a bit more aggressive."
Mark Cavendish said: "I'm racing this week because this is my national Tour, Britain's big race, and I always want to support it when I can.
"It's always a treat racing on home soil in front of big British crowds. I'm just going to enjoy myself and see what the week brings."
The Tour of Britain takes place between 7 and 14 September. Visit BBC Sport for the latest updates.