Steven Gerrard CCTV case: Ex-PC Helen Jones admits misconduct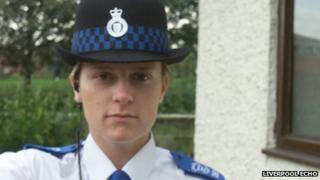 An ex-police officer who obtained CCTV footage of an alleged incident involving Steven Gerrard has admitted misconduct in a public office.
Helen Jones, 31, acted for "criminal or illegal purposes" on behalf of others when she acquired the recording in August 2013, Preston Crown Court heard.
She was on a sabbatical from Merseyside Police when she is understood to have got the footage from a bank in Formby.
Jones, of Kent, acted "improperly" but not for criminal reasons, she said.
The defendant, from Chatham, was granted bail and is due to appear in court again on 1 October.
Jones misrepresented herself by claiming she was on duty when she is understood to have visited the premises in Chapel Lane on 8 August, the court was told.
'Perpetrate illegal matters'
Jones, of Colchester Close, resigned from the force in December 2013 and was due to stand trial but changed her plea.
Prosecutor Richard Haworth said the Crown did not accept the basis of her plea.
He said: "The Crown say that this whole enterprise by the defendant was carried out for in effect criminal or illegal purposes to be carried out by others, not necessarily the defendant.
"Her role was to perpetrate criminal and illegal matters, so the defendant's explanation in law in why she acted is very much in issue."
Mr Haworth said Jones was "deceitful" on a number of occasions, claiming she told lies in police interview and in a prepared statement to police.
He also said: "She was deceitful... when she set out her defence in denying any involvement in the matter and seeking to set up a defensive alibi."
'Naive misjudgement'
However, Roderick Jones, defending, said Jones did not obtain the footage for a criminal purpose.
"This was not an act of criminality, save that Miss Jones accepts she acted completely improperly in the way she admits in her basis of plea," he said.
"This was a rather naive gross misjudgement, rather than anything else."
A trial of issue on her plea may take place at Preston Crown Court where Jones could be indicted to give evidence.