North West Brownies bid for sleepover world record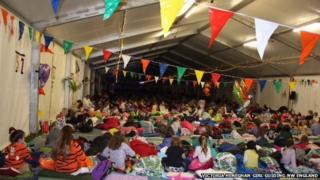 North West England Brownies have set what could be a new record for the world's largest sleepover.
Organiser Gillian Clarkson said 2,003 Brownies slept in a marquee overnight at Chester Zoo in an attempt to beat the current world record of 1,626 set by Brownies in Kent.
The Guide leader said: "Adjudicators from Guinness World Records were here and the girls all have their fingers crossed we've smashed it."
The girls are all between seven and 10.
Ms Clarkson said: "When we told the girls they had to sleep for five hours they immediately went silent because they were so determined to beat the record.
"We should know in a couple of weeks if we have been successful."
As well as the world record bid, the Brownies staged a weekend of events at the zoo to mark the 100th anniversary of the formation of the Brownies, the younger section of Girlguiding.
Girl Guides were formed by Lord Baden-Powell as girls sought their own version of the Scouts.