Sefton councillor Peter Papworth viewed porn on council laptop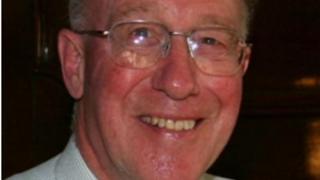 A former mayor has been disciplined after he was found to have watched pornography on his council laptop.
The discovery was made when Merseyside Conservative councillor Peter Papworth handed the computer in for repairs.
A technician looked at the internet history and noticed a number of "inappropriate" websites had been visited.
Mr Papworth was found to have breached Sefton Council's code of conduct, and was removed from several committees.
The Blundellsands ward representative has also had all council-owned IT facilities withdrawn until May 2015.
In a statement, Mr Papworth, the former mayor of Sefton and a member of the council since 1973, admitted he had "behaved unwisely" and said the matter was "a big embarrassment".
"I have done nothing illegal but was sometimes a passive observer of stuff I should not have been tempted to watch," he said.
"That was clearly wrong. But I have not been dishonest, I have not betrayed anyone and I have hurt no one but myself.
"I hope that I can continue to serve those who have elected me, as I have been privileged to for more than 44 years."