Hillsborough Inquests: Replacing match commander 'a mistake'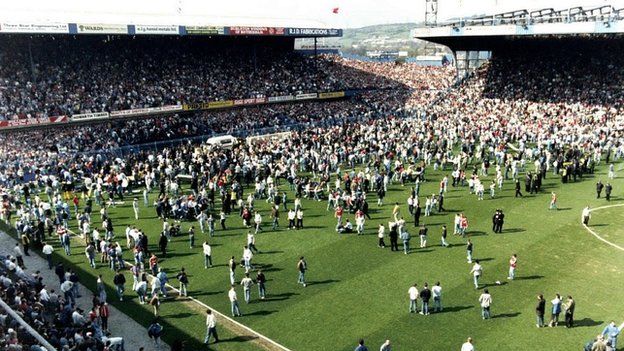 A retired superintendent who was on duty at Hillsborough has said it was a "mistake" to replace an experienced match commander just weeks before the disaster.
Ch Supt David Duckenfield replaced Ch Supt Brian Mole as match commander for the 1989 FA Cup semi-final.
Ninety-six fans died following a crush at the Sheffield Wednesday stadium.
Retired officer Mr Marshall said the command team at the match should have put measures in place to deal with fans who entered the ground through exit gates.
However, the court heard the former South Yorkshire Police superintendent believes a minority of fans bear some responsibility for what happened on 15 April 1989, the day of the match between Liverpool and Nottingham Forest.
He also agreed he had "never seen any such responsibility accepted by them".
Giving evidence for a fourth day, Mr Marshall was asked about how Ch Supt Brian Mole, who had been head of South Yorkshire Police's F Division and match commander at Hillsborough, was replaced by Ch Supt David Duckenfield towards the end of March 1989.
Paul Greaney QC, who represents junior officers in the Police Federation, asked: "With the benefit of hindsight, do you agree that the decision to move him and replace him with Mr Duckenfield so close to the date of the semi-final was a mistake?"
Mr Marshall, who worked under Mr Duckenfield on the day of the match, replied: "In hindsight, yes."
Mr Marshall's duty on the day of the disaster was to oversee how Liverpool supporters approached the stadium. The jury has heard how a large crush of fans developed outside the ground before kick-off.
He made three requests to match command for exit gates at the ground to be opened to relieve the pressure outside.
The first request was made at 14:47 BST, 13 minutes before the match was due to kick off, and the order for the gates to be opened was given by Mr Duckenfield at 14:52.
He was asked about how the senior officers in the police control box, including Mr Duckenfield and Supt Bernard Murray, should have responded to his requests.
Mr Greaney asked: "Is it obvious to you now that someone needed to give that situation some thought and make a decision about how it was to be managed?"
Mr Marshall replied: "Yes."
Mr Greaney continued: "Do you agree that they had time to put measures in place to deal with the consequences of the order that they gave?"
Mr Greaney then asked: "Are you prepared to accept that Mr Duckenfield and Mr Murray should have put measures in place in that time they had available?"
However, the retired officer said he was reluctant to criticise Mr Duckenfield and Mr Murray, and agreed that was because he and the other senior officers on duty "bore a collective responsibility for the events on the day of the disaster".
Mr Marshall was later questioned by his own barrister, John Beggs QC, who said a significant minority of Liverpool fans outside the ground in Leppings Lane bore some responsibility for what happened.
Mr Marshall agreed that fans turned up later to the 1989 semi-final than they had to the same match the previous year, when Liverpool had also played Nottingham Forest.
He also agreed some had been drinking enough to lose their inhibitions, and that fans without tickets blocked the flow of the turnstiles.
There was also pushing and shoving in the crowd, despite there being space behind the fans at the back, he said.
Mr Beggs told the court his client had expressed his "profound regret" for not calling for the kick-off to be delayed and for not asking for a "reception committee" to meet the fans who came in through an exit gate.
The barrister then said: "Isn't this the case, that all that you ask is that everyone who contributed to that most terrible tragedy in April 1989 should accept a measure of responsibility?"
Quoting Mr Marshall's earlier evidence, Mr Beggs continued: "Some of the Liverpool fans have a responsibility for what occurred and for the situation that arose. That's what you said - you stand by that don't you?"
Mr Marshall said: "I do sir, yes."
Mr Beggs asked: "But you have never seen any such responsibility accepted by them have you?"
Mr Marshall replied: "No, sir, no."
The jury also heard from two supporters who escaped from the central pens during the disaster.
Geoffrey Moody, a Chelsea supporter, went to the match with friends and was swept away by a crowd surge in pen three.
He told the hearing fans were screaming to "please open the gates", with officers replying "push back, push back, push back".
Mr Moody said he passed out and when he regained consciousness he was lying on the corner of the penalty area.
After the disaster, he found he had bruised ribs but did not require hospital treatment.
Stephen Boardman, who was 15 in 1989, said he went into the ground though exit gate C and escaped pen four by climbing over a fence to pen five.
He was later interviewed alone by two officers in his family's living room, with the written-up version counter-signed by his mother on his behalf.
Mr Boardman said the statement was "very biased" and "terrible".
The inquests, sitting in Warrington, Cheshire, continue.
Related Internet Links
The BBC is not responsible for the content of external sites.