Formby neighbours take garden gate row to High Court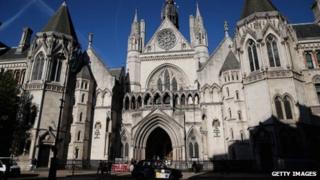 A row between neighbours over whether a shared garden gate should be open or shut has been resolved in the High Court.
The dispute was between Martin and Rosemary Bradley and Peter and Marianne Heslin, of Formby, Merseyside.
The Bradleys have lived in Freshfield Road since 1986, and wanted to keep the shared driveway gates shut.
But that was a "serious inconvenience" to the Heslins, who arrived in 2006, the court heard.
Mr Justice Norris said the couples might have resolved their differences by putting in remote-controlled electric gates at the entrance to their mutual driveway, at a cost of about £5,000.
He was "rather surprised" they had instead brought the case to the court, running up legal costs which could well reach six figures.
The Bradleys claimed keeping the gate shut at all times would better secure their home.
'Victor is no winner'
But the Heslins said this was "an obstruction", complaining they had to stop their car and open the gate every time they wanted to enter or leave their home.
The dispute began in August 2012, when Mr Heslin "simply padlocked the northern gate open and refused to allow the Bradleys to shut it", Mr Justice Norris said.
After visiting the homes, he ruled that in strict legal terms the Bradleys owned the gates.
He said it was not for the court to "write a rule book" on when the gates should be opened and shut. But he added that, in his view, it would be acceptable if they were kept closed between 23.00 BST and 07.30.
He said: "Rather to my surprise, I find myself trying a case about a pair of gates in Formby.
"Surprise on at least two counts: First, that anyone should pursue a neighbour dispute to trial, where even the victor is not a winner, given the blight which a contested case casts over the future of neighbourly relations.
"Second, that the case should have been pursued in the High Court over three days".
Mr Justice Norris ruled that, although the Bradleys are entitled to close their gates, they must not do so at times which "substantially interfere" with the Heslins' enjoyment of their home.