Liverpool cruise liner terminal bid sunk by 'unfeasible' costs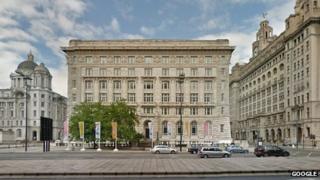 Plans to transform an historic Liverpool building into a cruise liner terminal have been shelved on cost grounds, the city's mayor has said.
Liverpool City Council wanted to create the facility in the Cunard Building, which it purchased for about £10m.
But mayor Joe Anderson said the regeneration plan will not proceed due to the cost of satisfying border control requirements.
Mr Anderson said he had been advised the project could cost "up to £15m".
He said the council is now speaking to developers about creating a terminal on an alternative site, not far from the Cunard building.
The Grade II-listed building, one of the city's "Three Graces", housed the headquarters and terminal for the Cunard cruise line until the 1990s, and has since been used as office space.
It was purchased from the Merseyside Pension Fund last year, and is currently occupied by a number of small companies.
It was hoped creating the terminal would boost tourism and investment in the city.
However, Mr Anderson said the council had chosen to shelve the project due to the associated cost of creating secure check-in and border control facilities required by the Home Office.
A particular difficulty would have been creating a secure passage for passengers between the terminal and the embarking point, he said.
"The sort of logistics of trying to get people from the Cunard Building to where we've got the berth is not feasible and financially impractical," he said.
"Yes, it's hugely disappointing that we can't use the Cunard Building. Are we downhearted about it? No. We are going to plod on and find another site.
"Buying the Cunard Building was still a commercially sensible thing to do. It means we own one of the most iconic buildings in the city."
Mr Anderson added that the council plans to move about 800 staff into the Cunard Building from other offices, saving money on running costs elsewhere while generating income from renting out other parts of the building.