Birkenhead cannabis farm: Police seize 635 plants in disused community centre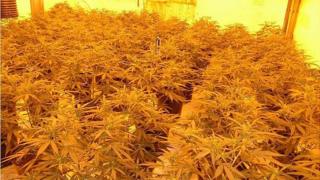 A cannabis farm containing hundreds of plants worth more than £500,000 has been discovered in a disused community centre.
Merseyside Police found the plants at the building in Church Road, Birkenhead, Wirral, at about 13:00 BST on Tuesday.
More than 600 plants were being grown in four rooms over two floors, police said.
Electrical equipment was also seized, but no arrests have been made.
Insp Duncan Swan said police were alerted by a member of the public.
"To seize more than 600 cannabis plants which are each capable of producing hundreds of pounds of illegal drugs in every crop is a good result for us and the law-abiding members of the public," he said.
"It means that these drugs cannot be sold to line the pockets of criminals who contribute nothing to our community and who instead bring violence and misery to the streets."