Everton fans targeted with tear gas in Lille before Europa League game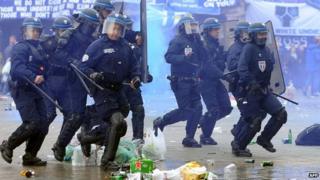 Everton fans have been targeted with tear gas fired by police during clashes in Lille's main square ahead of their Europa League match in the French city.
Images have appeared on Twitter of fans of the Merseyside club congregated in Grand Place square.
Everton subsequently sent out a message to fans to stay away from the area amid reports of a flare-up involving police.
Another picture showed what appears to be blue smoke from flares. Ticketless fans had been warned to avoid the area.
A spokesman for Merseyside Police, which has liaison officers in Lille, said trouble started when French police chased someone into the square where Everton supporters had congregated.
The chase led to a confrontation and riot police were deployed, he said.
The spokesman confirmed CS gas canisters were fired, but said reports of rubber bullets and baton rounds appeared to be inaccurate.
French authorities had banned Everton fans without tickets from the city centre.
A statement on Everton's website earlier this week warned supporters without tickets they would not be allowed to enter sections of the city, including the area around the stadium, between 10.00 and 17:00 BST.
On Wednesday night, two Everton fans suffered facial injuries after about 50 Lille supporters, armed with metal chairs, attacked them in a city centre bar.
They were taken to hospital and have since been discharged.
Mike Cleave, who lives in the Wirral, is in Lille with friends and has tickets for the match.
He said Everton fans were playing football in the main square, but that "it was all well-natured".
However, he said everyone was saying police were being "hard-handed" and that they threw two tear gas canisters.
Mr Cleave said he did not witness police throw the canisters, but did see two "explosions" from a side road.
Groups of fans then dispersed because they did not want tear gas in their eyes, he added.
Greg O'Keefe, the Everton reporter for the Liverpool Echo, also witnessed the disturbance.
He said: "I spoke to one guy whose little seven-year-old boy had got gas in his eyes and started to retch and vomit in the middle of the square.
"It was really unpleasant, but then as soon as it had happened, within ten minutes the flashpoint had settled down and the police had made, I think, one arrest."
Lifelong Everton fan Neil Roberts, 43, from Hertfordshire, said: "We were sitting in a bar and then heard four loud bangs - almost like gunshots or flares going off.
"As far as I'm concerned nobody was causing any trouble. There might have been a couple of people throwing bottles but there are 18,000 here having a great time.
"I saw police running in, a ball of smoke and Everton fans all running away."
Everton said in a statement: "We are monitoring the situation, and advising fans to stay away from the main square.
"We've been told by the French authorities that rubber bullets have not been fired by the police."
---
BBC Radio 5 Live's digital editor Will Cooper, in Lille
"The atmosphere was really genial and then the police turned up in riot gear and it all kicked off. It was really shocking.
"From what we can see the bottles were chucked after the tear gas was deployed.
"We could feel the thud and boom in the café where we were having our lunch. The Everton fans were policing themselves.
"A few kids - aged between 10 and 15 I would say - came running into the café with their parents, asking for water for their eyes because of the tear gas.
"The French waiters were brilliant, helping everybody and the locals helped everybody who needed it."
---
Margaret Heywood, 54, who lives in Anfield and is a deputy head steward at Goodison Park, claimed police did fire rubber bullets.
She said: "I travelled down with our supporters group. We left Liverpool at about nine last night and we've been here since early this morning.
"We were all in the square, about 3,000 of us, there was no trouble, the flags were up, everyone was enjoying the day, and the next minute the police just started firing into the square.
"It was awful, there were children, people in wheelchairs. They were firing rubber bullets, tear gas.
"I saw a young lad on the floor, the rubber bullet got him in the ankle. There was a lad in a wheelchair and I was trying to get him out of the way.
"I've never seen anything like this, I'm 54 and I go to all the matches."
---
Are you in the area? Have you been caught up in events? Share your experience by emailing haveyoursay@bbc.co.uk.