Man arrested in Warrington after laser 'shone at police helicopter'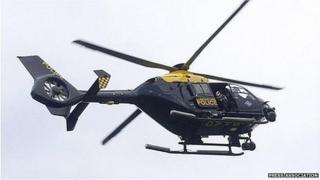 A 23-year-old man has been arrested on suspicion of shining a laser pen at a police helicopter.
Cheshire Police made the arrest in Warrington, Cheshire, at about 21:30 BST on Saturday.
Officers were directed to the area and the suspect was arrested shortly afterwards.
Insp Adam Moreton said: "These sorts of incidents can lead to loss of control and not only death to pilots, but to people below in the event of a crash."