HS3: Liverpool Mayor Joe Anderson criticises his city's 'illogical' omission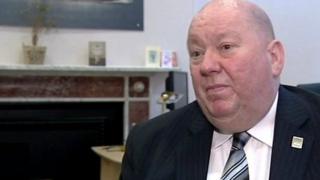 The failure to include Liverpool in proposals for a new high-speed railway line in northern England has been labelled "disappointing and illogical".
Liverpool Mayor Joe Anderson said his city was "once again being by-passed".
His statement came after Prime Minister David Cameron backed plans for HS3 - a high-speed line which would run between Manchester and Leeds.
The government said it would now develop a strategy looking at options, costs and a delivery timetable for HS3.
An interim report will be produced in March.
Sir David Higgins, boss of the planned HS2 line - which would provide faster journey times between London, the Midlands and the North - said HS3 could help create a "northern powerhouse".
Tasked with looking at ways of maximising the benefits of HS2, Mr Higgins said providing better rail links in northern England was "desirable" and "possible".
While supporting the principal of better rail transport in the north, Mr Anderson said: "I am profoundly disappointed that despite a great deal of rhetoric about a 'northern powerhouse', this announcement offers no new connectivity or capacity to Liverpool.
"We are once again being by-passed by an investment that will fail to realise its supposed purpose.
"We built the world's first inter-city railway to Manchester nearly 200 years ago, and that link remains the obvious logical starting point for the creation of a 'northern powerhouse' - two neighbouring cities with close economic links, strong passenger demand and the critical mass and global connectivity to rival London.
"I am absolutely determined over the coming months to make and develop Liverpool's case."