Everton 'seek answers' over Lille police's 'disproportionate response' to trouble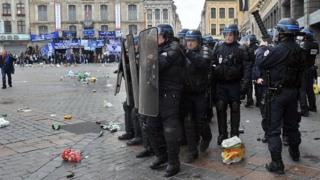 Everton are "seeking answers" to what they claim was the "disproportionate police response" to trouble in Lille before their recent Europa League tie.
Police used a stun grenade and rubber bullets during clashes last Thursday.
A French police spokesman maintained his officers acted in self-defence against "rioters", but fans said they were "heavy-handed" and used tear gas.
Everton's head of security Dave Lewis alleged police "caused unnecessary fear and avoidable injuries to bystanders".
He said the club was working with both Merseyside Police and Liverpool Mayor Joe Anderson to try to establish what happened in the northern French city.
"The information we have been getting from a range of sources confirms that a section of our fans had an unacceptable experience in Lille last week," he said.
Mr Lewis claimed fans had been subjected to an "unprovoked attack" the night before the game and "what we believe to be a disproportionate police response to issues in the [main] square on the Thursday, which caused unnecessary fear and avoidable injuries to bystanders".
He added the club was also investigating "a number of other issues, including access into the stadium".
An Everton spokesman said supporters who were in Lille could provide accounts of what they experienced via a form on their website.
He also said his club wanted to "express its gratitude to LOSC Lille for the club's support before and after this fixture, including a ticket allocation which allowed considerably more Evertonians to travel than provided for in the competition rules".