African culture volunteer honoured by Prime Minister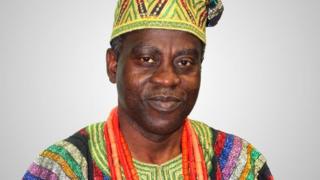 A Liverpool man has been honoured by the Prime Minister for his work raising awareness of African culture.
Oladimeji Adisa, who runs the Osun Foundation, has been given a Point of Light award for teaching people about African heritage.
Mr Adisa has been running the arts initiative, which hosts a variety of activities such as cookery classes and mask making, for two decades.
David Cameron said Mr Adisa was "doing brilliant work".
The foundation has been involved with several high profile cultural performances, including the Queen's Jubilee and Commonwealth Games.
Mr Adisa has also worked with 500 schools around the UK with the aim of helping people understand Britain's multicultural society.
He said it was "something special" to be chosen for the award "when there are so many people out there doing great things".
Point of Light awards recognise outstanding individual volunteers who are inspiring others.
They were developed in partnership with the Point of Light programme in the USA established by President George H. W. Bush.