Everton v Lille: MPs ask French government to investigate police conduct
Two Liverpool-born MPs have asked the French government to investigate the way Everton fans were treated by police before last month's Europa League tie.
Shadow Health Secretary Andy Burnham was with Labour MP Steve Rotheram when police clashed with supporters in the main square on 23 October.
Police in the northern French city used rubber bullets and tear gas after claiming missiles were thrown by fans.
But the MPs said their actions were "heavy-handed" and "disproportionate".
In a joint letter to the French ambassador, they said they had witnessed "a sight that we had seldom witnessed in four decades watching football".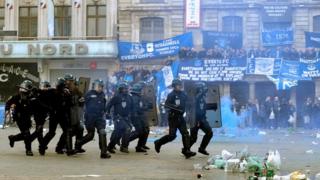 The letter reads: "We wish, through you, to register a formal complaint with the French government about the treatment of Everton supporters who travelled to Lille for the UEFA Europa Cup match on Thursday 23 October 2014.
"We attended this match and were concerned by the scenes we witnessed inside and outside the stadium. We have also since spoken with Everton supporters who were innocently caught up in events in the town's main square and left shaken by the experience.
"It is our view that the heavy-handed policing operation around this match was disproportionate to the nature of the occasion and, at times, compromised the safety of the public."
The MPs also said there was a delay in entering the stadium, resulting in a "dangerous bottleneck".
'Frightening experience'
"We witnessed children and a disabled person in a wheelchair at risk of being crushed against the fence. It was a frightening experience for them.
"Beyond the turnstiles, there were three banks of riot police who proceeded to search supporters in an intimidatory manner, with weapons prominently displayed.
"It has been brought to our attention that a number of female supporters found the manner of the searches upsetting and inappropriate.
"We believe that the people who travelled deserve, at the very least, a full explanation for the actions of the police."
Mr Rotherham is MP for Walton in Liverpool, while Aintree-born Mr Burnham represents Leigh in Greater Manchester.
The second leg of Everton's Europa League clash with Lille kicks off tonight at 20:05 GMT. You can follow the action on the BBC Sport website.