The Open 2014: Hoylake tournament boosts Wirral economy by £76m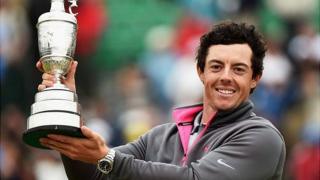 The Wirral economy benefitted from staging golf's Open Championship this summer to the tune of more than £70m, according to an independent report.
The Hoylake event in July brought stars including Tiger Woods and eventual champion Rory McIlroy to Merseyside.
More than 200,000 spectators attended, while millions more around the world watched the tournament on television.
The report, commissioned by golf's governing body the R&A and presented to Wirral Council, said £76.3m was raised.
The research said the economic benefit was felt in the Wirral Council area and across the North West.
Researchers from Sheffield Hallam University carried out 1,500 spectator interviews as part of their research.
They found about £19m was spent by visitors, with businesses including restaurants, hotels, pubs and shops all benefiting.
Media coverage of the event resulted in a global "tourism promotion benefit" of £52.2m, based on marketing Wirral as a "desirable travel and investment destination".
Phil Davies, leader of Wirral Council, said: "The Open was an opportunity for Wirral to promote itself to a global audience, and it was equally important for us that local people saw real, tangible benefits to hosting the event.
"During this year's Open, over 200,000 people saw Wirral's natural beauty, they shopped and ate in our towns, and viewers across the globe saw what we have to offer."
Council chief executive Graham Burgess added: "This year's Open is a success story, and a case study of how to run a major international sporting event."