Hillsborough Inquests: Officer's 'lemmings' claim about fans criticised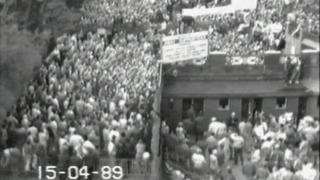 Comparing Liverpool fans at Hillsborough to lemmings "shows a lot about the mindset" of the man who initially investigated the disaster, the new inquests have heard.
Former Det Supt Graham McKay said fans who went down a tunnel leading to the terraces were "like lemmings".
Peter Wilcock QC, who represents a group of families who lost loved ones, said the comment was offensive.
Ninety-six fans died as a result of a crush at the 1989 FA Cup semi-final.
Mr McKay had been in charge of preventing and detecting crime at the match between Liverpool and Nottingham Forest at Sheffield Wednesday's Hillsborough ground on 15 April 1989.
He was then tasked with leading the investigation into the disaster.
The jury has seen notes taken during a briefing which Mr McKay gave to detectives two days afterwards.
The notes record him saying: "As I walked on the track behind the Kop goal [at the opposite end to where the fatal crush took place], I looked up and I could see disorder; this was when all that mass of people who had gone through that gate had made their way down the tunnel like lemmings."
---
Who were the 96 victims?
BBC News: Profiles of all those who died
---
Mr Wilcock said: "I'm suggesting it shows a lot about your mindset, Mr McKay, because bearing in mind that you knew at the time that you made these remarks that a number of people had gone to their deaths having been let through Gate C.
"It's right, isn't it, that lemmings aren't usually sold tickets to a place where they think they will be safe and then directed to their deaths by the very people charged with looking after them?"
Mr McKay said he did not understand the question.
Mr Wilcock continued: "That's what makes this so offensive - comparing lemmings to the young people that lost their lives while in the care of South Yorkshire Police."
Mr McKay replied: "That's what I said. I can't change it."
Explaining why he used the word "lemmings", he said: "The analogy is referring to the fact that lemmings are supposed to collectively migrate and rush to their doom."
Mr Wilcock said they "commit mass suicide".
The jury also heard that Mr McKay's son had been at the match as a Liverpool supporter.
When he arrived home at 02:30 BST, the officer found that his son had invited two "distressed Liverpool fans" to stay at his home.
The inquests, in Warrington, continue.