'Dangerous' pesticide stolen in Bromborough burglary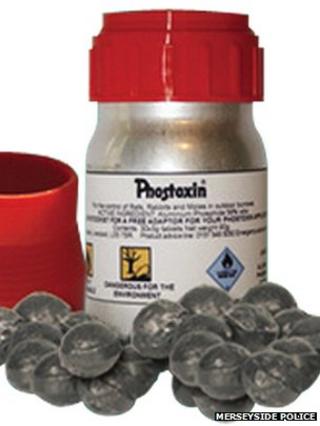 Police have asked thieves who took toxic chemicals from a Wirral business to hand them in "for their own safety".
Six flasks of Phostoxin were taken along with a safe, money and computers from a property on Old Hall Road in Bromborough on Monday night.
The pellets contain aluminium phosphide which is highly flammable and creates a toxic gas when combined with water, police said.
The pesticide is used in the control of rats, rabbits and moles.
Insp Paul Harrison said he did not think the flasks were taken on purpose.
"I don't believe the thieves who were involved in this burglary are aware of what they've taken," he said.
"This chemical is deemed extremely dangerous, and to put this into context, if fire officers where handling it, they would be wearing protective suits and full breathing apparatus.
"I'd like to appeal to them, for their own safety and the safety of others, to find a way of returning these chemicals to either the police or the fire service."