Hillsborough inquests: Roger Greenwood's 'profound regret'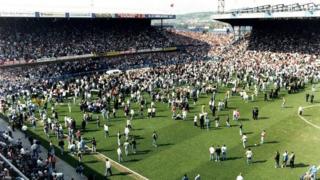 The senior officer in charge of policing inside Hillsborough has spoken of his "profound regret" that his "best on the day" was not good enough.
Former Supt Roger Greenwood had previously admitted he did not know what the procedure was if the central pens became full, the inquests heard.
Instead, police allowed a policy of "find your own level" to operate on the day of the disaster, he said.
On becoming emotional, Mr Greenwood said he felt he "should apologise".
Ninety-six Liverpool fans died after a crush on the terraces at the 1989 FA Cup semi-final between Liverpool and Nottingham Forest held at Sheffield Wednesday's ground.
Jason Beer QC, who represents Sheffield Wednesday, showed the jury a portion of Mr Greenwood's evidence to the Taylor Inquiry in 1989, in which Mr Greenwood admitted he did not know the arrangements to prevent more spectators entering pens if they became full.
'Sensational headlines'
Mr Beer asked Mr Greenwood why, as ground commander, he did not know what to do.
He replied: 'Well, specifically because it was 'find your own level [sit where you like]'."
The barrister said: "You didn't abdicate all responsibility, surely, South Yorkshire Police, for those fans, did you?
"'Find your own level' still had some police involvement, didn't it?"
Mr Greenwood said it had worked during the 1988 FA Cup semi-final at Hillsborough and that "it was the principle that was going to operate in 1989".
---
Roger Greenwood's 'profound regret'
His barrister John Beggs QC said: "You would accept, wouldn't you, in the light of the tragic outcome - 96 who died and many hundreds injured and traumatised - you would accept that your best, in common with all officers doing their best, simply was not good enough, was it?"
Mr Greenwood replied: "We couldn't resolve the situation, no."
Mr Beggs continued: "Is that a matter of profound regret that's lived with you since 1989?"
Mr Greenwood replied: "Absolutely."
Mr Beggs continued: "Is that why you were overtaken by emotion giving evidence on the first day?"
Again Mr Greenwood looked close to tears, before answering: "Just pause for a moment please... yes, is the answer."
Mr Greenwood agreed for a man of his "age and generation" it was difficult to show emotion.
He added: "Yes. I feel as if I should apologise but that's the way it is."
---
Mr Beer said: "Never mind what would happen in an emergency situation in response to the opening of an exit gate with hundreds or thousands of fans pouring in, what about the ordinary course of events?"
"If the pens became full you didn't know what was to happen, did you?"
Mr Greenwood said he would not "just stand by" if pens became full and the "find your own level" was not working. He said one would "take flexible response action".
"One responds to it to prevent the emergency happening. That's what I would have done."
Mr Greenwood was also questioned by his own barrister, John Beggs QC, during his fourth day giving evidence.
Mr Beggs asked if the accusations of "gross incompetence" and a "total failure of leadership" levelled at him in the inquests had made him a "little angry".
Mr Greenwood said: "I can think of no worse criticism on somebody's professional acumen that created sensational headlines."
The inquests in Warrington continue.
---
Who were the 96 victims?
BBC News: Profiles of all those who died
---