War poet Wilfred Owen's regiment's spoon discovered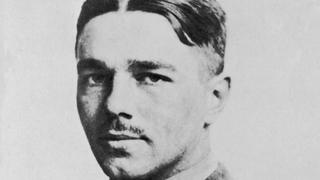 A spoon bearing the emblem of World War One poet Wilfred Owen's first regiment and believed to have been used by him has been donated to a museum.
The silver spoon stamped with the Artists Rifles' crest is going on show at the Wilfred Owen Museum, Birkenhead.
Museum owner Dean Johnson said avid tea drinker Owen "must have used it".
The poet, influenced by his experiences in the trenches, was killed trying to cross a canal a week before the end of the war in 1918.
His best known poem, Dulce et Decorum Est, like most of his work, was published after his death. Owen who was born in Shropshire was 25-years old when he was killed.
The spoon was spotted online by Les Highton, who was educated like Owen at Birkenhead Institute.
He bought it earlier this week and donated it to the museum.
Mr Johnson said: "It is a very rare item because the Artists Rifles was such a small unit."
Owen liked a lot of sugar in his tea and must have used the spoon because the regiment was a small garrison when he enlisted, Mr Johnson said.
Owen was a connoisseur of tea from childhood as his father Tom brought home exotic blends in his seafaring days, he added.
During Owen's time on the front line, Mr Johnson said he insisted his mother sent him his favourites regularly.
Owen enlisted in the British Army in 1915 but most of his work was written while serving in France between August 1917 and September 1918.
His bleak depiction of life fighting in the trenches grew in popularity after his death.
Owen was awarded the Military Cross posthumously for his action in the storming of enemy positions around the village of Joncourt in October 1918.
The spoon will be on show at the museum from Tuesday.