Erick Maina: Vigil for Liverpool boy mocked by graffiti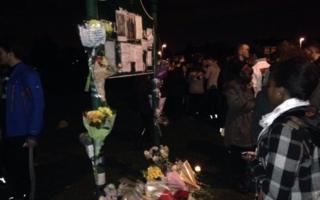 A vigil has taken place to remember a Liverpool boy who was the subject of racist graffiti hours after his death.
Erick Maina, 15, was found hanged in Fazakerley, Liverpool, on 15 November.
Two teenagers later admitted spraying racist graffiti mocking his death near his school, Maricourt Catholic High School, Maghull.
About 400 people, many wearing T-shirts which read "RIP Erick. Gone but never forgotten" released lanterns in his honour at Field Lane Park, Fazakerley.
Ann, a mother of one of Erick's school friends, who did not want to give her full name, said he was a lovely boy.
She said his death had really affected his friends.
"It's devastated the kids but it has brought them all closer together as well."
Detectives are investigating the boy's death on behalf of the Sefton coroner.
The youths who admitted daubing the graffiti are awaiting sentence.
James Coleman, 18, of Buckfast Close, Netherton, was remanded in custody for sentencing at Liverpool Crown Court on 16 December.
The other defendant, who cannot be named for legal reasons, was also bailed and will be sentenced at Sefton Youth Court on 9 December.