Liverpool city centre bus lanes brought back into use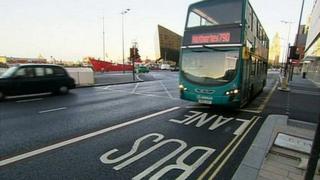 Four bus lanes in Liverpool have been reinstated, after a suspension lasting more than a year.
The lanes, all in the city centre, will be the only ones in use, after Liverpool City Council decided to abandon the rest.
Liverpool Mayor Joe Anderson introduced a trial suspension September 2013, saying bus lanes "simply don't work".
The decision was made permanent last month, although bus operator Stagecoach called the move "irresponsible".
The bus lanes now back in use are:
Strand Street (southbound)
St John's Lane - Monday to Saturday 4-6pm
Strand Street/James Street - Daytime cover
Lime Street - Monday to Saturday 4-6pm
The decision to abolish Liverpool's bus lanes came following an independent review.
It examined traffic flow on three main bus "corridors" - Prescot Road, between the Royal Liverpool Hospital and Alder Hey Hospital; County Road, between Scotland Road and the M57 motorway; and Picton Road, between Edge Lane and Belle Vale.
The report, which included data from researchers who travelled as bus passengers, said bus lanes only offered marginal benefits along all three corridors.
It also found buses were slowed down by on-street parking, rather than other vehicles on the road.