Leslie Gadsby: Mother 'never' stopped loving killer son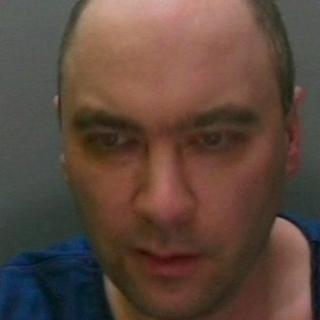 A woman who was killed by her mentally ill son "never lost her love" for him, a coroner said.
Liverpool Coroner Andre Rebello recorded a verdict of unlawful killing on Edna Gadsby, 70, who was stabbed by her son Leslie, 39, on 31 March 2010.
Gadsby, who has paranoid schizophrenia, spent more than two years in a secure unit after killing his father, Arthur, with a hammer in 2004.
On release, he had been ordered not to go within 200m of his mother's house.
Liverpool Coroner's Court heard that at first Mrs Gadsby did not visit her son after he killed his father.
'Condition stabilised'
But, gradually that changed and she saw him regularly on his release from a secure hospital, in 2006.
"It's all credit to Mrs Gadsby that her love for her son in a conflicted situation still manifested itself," said Mr Rebello.
"She never lost her love for him."
Psychiatrist Dr Stephen Noblett told the court, Gadsby was conditionally discharged from the Scott Clinic secure hospital in 2006 because medication had stabilised his mental condition - a decision supported by his medical team.
The court heard the conditions of his release took into account the potential risk he posed to his mother, with the court orders preventing him from going near her home in Gateacre.
Mrs Gadsby had not been at the mental health tribunal at which permission for his release was given, but she had attended a meeting about his care beforehand.
The inquest heard in the week before killing his mother, Gadbsy gave away money and possessions - a sign with hindsight he was nearing another psychotic episode.
Gadsby was sentenced to a life term in a secure psychiatric hospital in March 2011, after admitting his mother's manslaughter.
Mrs Gadsby's family, who were at the inquest, were assured he would serve the rest of his sentence in jail if a decision was taken to discharge him from psychiatric care.
An NHS report about Mrs Gadsby's care is due to be published in the next few weeks.