Star Trek's William Shatner: Denies Christmas lights switch-on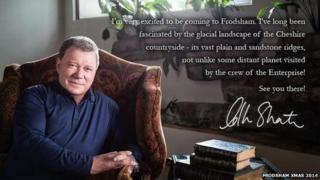 Star Trek legend William Shatner has denied rumours he will boldly go to switch on the Christmas lights in a Cheshire town.
A tweet from @Frodshamxmas claimed the star, who played Captain James T. Kirk in the cult sci-fi series, would be hosting the town's festive switch-on.
Attached was a picture of Mr Shatner with a signed "quote" reading: "I'm very excited to be coming to Frodsham".
But the bemused actor confirmed the enterprising advert was false.
The 83-year-old tweeted from his personal account: "The village of Frodsham UK is promising I will turn on holiday lights? There's a reason why the word Sham is in the name! Sorry, not true."
Councillor Mike Pusey confirmed the tweet was a hoax carried out by a friend of one of the organisers of Saturday's event.
Mr Pusey said the friend had access to the Twitter account, and the matter was being "treated in the festive spirit".
"It was only a bit of fun. Actually, it's a pity we can't beam Captain Kirk down because I think he'd be great," he said.
The hoax was believed by many Twitter users, who were quick to describe their surprise and delight.
Stephen Wood tweeted: "Wow no way?!"
Rob Jeffries posted: "Have you seriously got Bill to switch them on?"
However, others were more suspicious, and poked fun at the organisers.
Johnimus Prime tweeted: "In the words of Victor Meldrew, I don't believe it!"
A genuine special guest for the event, planned by Frodsham Town Council and the Love Frodsham group, is yet to be confirmed.