Liverpool £1m cannabis operation flat fire neighbour rescued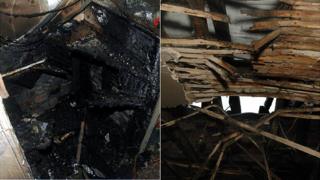 A man has been rescued after a Liverpool cannabis farm "capable of producing over £1m of drugs" caught fire.
Emergency services were called to Warbreck Moor, Aintree, in the early hours of the morning.
A 65-year-old man, who lives in the flat next door, had to be rescued and a cafe below the farm was damaged.
Faulty electrics linked to the production of cannabis are thought to have caused the blaze.
Merseyside Police said 302 plants were being grown in four rooms of the flat. No arrests have been made.
Craig Whitfield, from Merseyside Fire and Rescue Service, said: "Any tampering with the electrical supply or wiring installation in a property can cause a fire, which also poses a risk to those who live nearby."