Hillsborough inquests: Police lawyer suggested evidence 'review'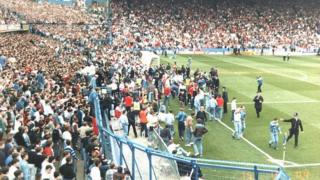 A South Yorkshire Police lawyer suggested four inspectors "review" the evidence they gave at a public inquiry into Hillsborough, the inquests heard.
Peter Metcalf wrote to the deputy chief constable to ask the officers to consider who was "responsible" for monitoring pens at the 1989 disaster.
He drafted a statement suggesting the officers gave a "misleading" picture, but they should only sign it if true.
The officers did not change their accounts, the hearing was told.
Ninety-six people were fatally injured at the FA Cup semi-final between Liverpool and Nottingham Forest at Sheffield Wednesday's ground on 15 April.
---
Who were the 96 victims?
BBC News: Profiles of all those who died
---
Mr Metcalf wrote to Deputy Chief Constable Peter Hayes on 19 July 1990 about the evidence of Ch Insp Robert Creaser and inspectors Stephen Sewell, Clive Calvert and Peter Darling, the inquests heard.
He wanted them to check the transcript of their evidence gave a "true flavour of what they meant to say" at the Lord Justice Taylor inquiry, which was set up in 1989 to establish the cause of the disaster.
The jury in Warrington was told his letter asked the officers to address two points:
Were they expecting any police officer to be checking the pens, not merely for individual signs of overcrowding, but by way of making a regular and deliberate assessment as to whether they were full, with a view to closing off the pens?
If not, were they expecting any other body to be undertaking this duty?
"I should be grateful if the officers referred to could review their inquiry evidence and if, in the light of that review, they believe that statements explaining the purport of their evidence can be given," the letter said.
The lawyer, who worked for Hammond Suddards, also sent a draft statement for the officers to consider signing.
It said the evidence gave a "misleading impression" about the control of the number of fans and "confusion stems from the different meanings ascribed to the word 'monitoring'."
'Cross examination'
"For the avoidance of doubt, my understanding of the position is as follows: On 15th April, 1989, I did not expect any police officer to be making a deliberate numerical or overall visual assessment of the numbers of fans entering each of the individual pens.
"Nor did I expect any other body, eg club stewards or anyone else to be undertaking this exercise."
Mr Metcalf's letter also stated: "I am sure I do not need to emphasise that there is no point in any officer putting forward evidence which he cannot honestly sustain in cross examination.
"Only if the officers consider that the transcript does not fairly state their true position is any further statement needed."
Giving evidence at the inquests, Mr Sewell confirmed he told the Taylor Inquiry that it "fell onto the police to monitor the Leppings Lane terrace".
He said he did not know of any reason why Mr Metcalf should think he had "made a mistake or had given inadvertently misleading evidence to the Taylor Inquiry".
Mr Metcalf added what he told the inquiry he "believed to be true at the time".
He agreed with Pete Weatherby QC, who represents a group of Hillsborough families, the approach from Mr Metcalf was "very odd, very unusual".
Mr Weatherby asked whether he had ever, as a police officer, "drafted a statement from a witness that he had not not spoken to, which suggests that they have given a misleading impression to a court".
Mr Sewell said he had not.
Mr Weatherby said: "You haven't done that because it would be completely improper."
The retired officer said he was "not very happy with it", although he did not know of Mr Metcalf's letter at the time.
The inquests continue.