David Churchill: Cannabis grower jailed for hitting wife with axe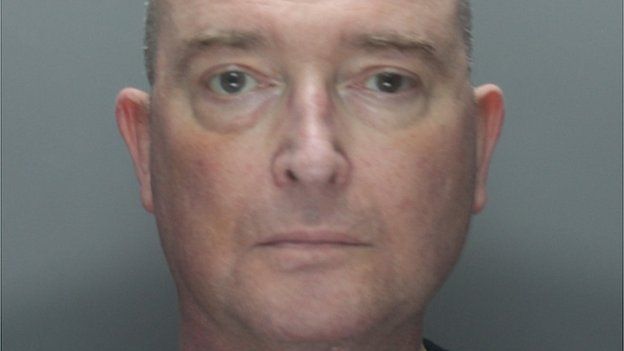 A cannabis grower who hit his wife with an axe has been jailed for 17 years.
David Churchill pleaded guilty at an earlier hearing to imprisoning his wife June, 52, for three days at their home in Norfolk Road, Liverpool.
He also admitted setting fire to their house on 3 October while he was already on bail for assaulting her four days earlier.
Passing sentence at Liverpool Crown Court, the judge said Churchill, 52, was a "spiteful and violent bully".
At the time of the offences, taxi driver Churchill had also been on bail since March for growing 148 cannabis plants with a potential street value of £54,000.
The court heard the couple had been living separate lives under the same roof.
On 29 September, they argued about him wanting to move their television into the garage when Churchill grabbed his estranged wife's throat, put her in a headlock and threw her onto the couch.
Prosecutor Iain Criddle said Churchill pulled her hair, punched her in the face and threatened to kill her.
Churchill was arrested and bailed on condition he did not approach her or enter their home in Maghull.
But he smashed into their house with an axe at midnight on 30 September while she was asleep.
"He tied her ankles and wrists together, gagged her, blindfolded her and struck her to the chest with an axe causing a four-inch open wound," Mr Criddle said.
After making her sit on the toilet, he hit her with the axe when she tried to escape, and slashed her back and throat with a rusty knife, the court heard.
"He also attempted to gouge her eyes out with his thumbs. She feels lucky she wasn't blinded by that," Mr Criddle said.
Mrs Churchill was then tied to the bed for three days, during which time her estranged husband played poker on the computer and sorted his finances. She suffered a fractured skull, spine, rib and eye socket.
After agreeing to take her to hospital, Churchill set their house on fire on 3 October.
Det Insp Mark Smith, from Merseyside Police, said the fire also caused "significant damage" to the neighbouring property, which had a family with two young children inside.
"It's only thanks to some quick thinking passers-by that they managed to escape and avoid serious injury," he added.
"Their life has been turned upside down and the children are still traumatised by what happened."
The Crown Prosecution Service said Churchill was arrested after he handed himself into police, asking officers: "Am I the worst criminal you have caught that was so easy to lock up?"
June Churchill, who spent 10 days in hospital and needed surgery, compared her ordeal to "a horror film".
Det Insp Smith said: "I hope that today's sentence provides her with some closure and allows her to try to move on with the rest of her life."
Related Internet Links
The BBC is not responsible for the content of external sites.