Plan for £52m revamp of Warrington town centre approved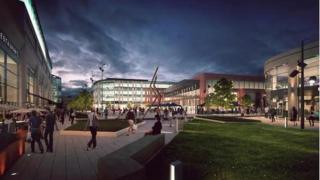 A £52m plan to transform Warrington town centre has been approved by councillors.
The Bridge Street Quarter regeneration project will create 400 jobs and includes a £10m new market hall, a multiplex cinema, a new council office and a public square.
Plans were given the go-ahead at a planning meeting of Warrington Borough Council (WBC).
Council leader Terry O'Neill described it as "momentous decision".
"Warrington town centre is on the cusp of a renaissance which will bring its vitality back to its former glory."
He said: "The Bridge Street Quarter will be supported by three other complementary projects: Stadium Quarter, Cabinet Works and Southern Gateway being led by Wire Regeneration."
Mr O'Neill's deputy leader councillor Mike Hannon said the new market hall which would be built around the Grade II-listed brick facade in Bridge Street would "be the envy of other towns and cities".
The authority said work on the scheme by developers Muse Developments is set to start early next year and is due to be completed in 2019.