Hillsborough inquests: Police did not use 'catastrophe' alert word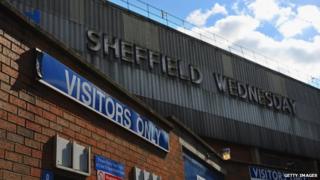 The lack of the word "catastrophe" in a police call meant the ambulance service was "reluctant" to respond at Hillsborough, the inquests have heard.
Former Ch Insp Malcolm Edmundson agreed the "alert word" had not been used when police contacted South Yorkshire Metropolitan Ambulance Service (SYMAS).
He said he could not say if it would have made a difference and a "senior" SYMAS officer was at the ground.
Mr Edmundson was the police operations room controller during the disaster.
Ninety-six people were fatally injured in a terrace crush at the FA Cup semi-final between Liverpool and Nottingham Forest on 15 April 1989 at Sheffield Wednesday's stadium.
The jury heard that at 15:08 BST, PC Trevor Bichard had radioed from the police's control box at the ground to the operations room that a "fleet of ambulances" was needed.
At the same time, a PC in the operations room contacted SYMAS as a "pre-warning", a call which Mr Edmundson interrupted to convey the "fleet" request.
The inquests heard that the SYMAS superintendent said they would send an "initial response... we will assess, we have got officers at the scene".
The phrase "major incident" was not used during the call, nor was the emergency service "alert word" of "catastrophe".
---
Who were the 96 victims?
BBC News: Profiles of all those who died
---
Stephen Simblet, who represents a group of victims' families, said by not using that word, "it appears that the ambulance service were reluctant to deploy the resources that PC Bichard thought needed to be sent".
Mr Edmundson said that was "fair" but said SYMAS "had a senior officer at the ground".
The jury have heard four SYMAS officers, including two senior station officers, were at Hillsborough.
Mr Edmundson said before the 15:08 calls, he had overheard radio traffic from the ground, including requests for exit gates to be opened to allow a large build-up of fans into the stadium.
He told the jury that had prompted him to ask his officers to contact the ambulance service to put them on stand-by and, at 14:59, to ask the ground control box if they needed ambulances.
At that time, he said the control box replied that it was "chaos at the moment [but] we have got no reports of injuries" and asked for the operations room to "monitor the situation".
'Major accident'
Asked why he had ordered his officers to offer ambulances, Mr Edmundson said he "can't actually say now, but it was obvious what was going off on the radio that made me and the other two people in the room think there had been somebody injured".
Mr Edmundson also heard dog handlers being requested at 15:05 and "operation support" called for.
Both those, he said, were indications of a public order problem at the ground.
Jonathan Hough QC, asking questions on behalf of the coroner, said: "You had an incident where you suspected injuries. A fleet of ambulances being called for. You feared gates and walls being pushed over. You were aware that 'operation support' had been called out.
"Didn't those things together satisfy the definition of a major incident, even if the cause was public order?"
Mr Edmundson said "looking back at it", it did, and agreed he "should have been aware" he was dealing with a major incident.
However, he said he "can't comment" on whether his personal intervention and a use of the word "catastrophe" would have seen SYMAS respond "differently".
Asked if he thought a "clearer message" to SYMAS might have drawn a different response, Mr Edmundson said he could not understand why the service could not assess how many ambulances it needed to send.
The court heard the situation was referred to as a "major accident" when the police operations room called the fire service at 15:14, but again the word "catastrophe" was not used.
The jury was told that in a recent police statement, Mr Edmundson said his staff were "adequately trained" and were "experienced".
He said he did not know "what we could have done differently".
"In the circumstances, we did quite well.
"We were blind and on receiving instructions or requests from match control, we acted immediately."
The inquests, sitting in Warrington, continue.