Tree probe as Liverpool church destroys ancient yews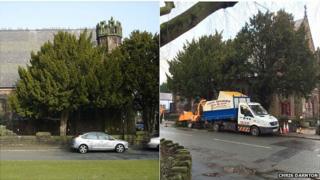 A church could face prosecution for illegally destroying two ancient yew trees protected by preservation orders.
St James' Methodist United Reformed Church in Woolton, Liverpool, cut down the trees on Monday.
But a concerned resident contacted Liverpool City Council, who confirmed the trees were subject to tree preservation orders (TPOs).
The council has launched an investigation and a spokesman confirmed the church could be prosecuted.
Another option could be asking the church to replace the trees, which were destroyed amid concerns about them growing towards the church and overhanging the road.
They are thought to have been hundreds of years old.
Chris Darnton, environment secretary at conservation group the Woolton Society, who contacted the council, said: "Even if new trees are planted, they'll never grow back to how they were - certainly not in my lifetime.
"The people of the church should be ashamed of themselves."
'Work was halted'
Vicar Alan Crump insisted that both church officials and landscaping firm Four Seasons were given verbal assurances from the council that no TPOs were in place.
However, after beginning the work, he says the church received a call from the council informing them that the trees were indeed protected.
Revd Crump said the work was then halted, but the trees could not be saved.
He added: "Throughout we have acted in good faith and certainly would not knowingly have contravened this TPO."
The council, however, claims that the relevant department was not notified.
A spokesman said: "The council service which deals with tree preservation orders was not contacted about this issue before the trees were removed.
"We are investigating the church's claims that they contacted the council.
"Until those investigations are concluded it is not possible to advise what the next appropriate steps will be."