Luciana Berger: MP received 2,500 racist tweets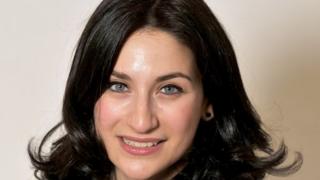 An MP who received 2,500 anti-Semitic messages in three days has called for Twitter to ban racist words.
Luciana Berger, Labour MP for Liverpool Wavertree, received a "torrent" of abuse after an internet troll was jailed in October for a racist tweet.
The MP needed special security advice as the abuse organised by US neo-Nazis also saw her receiving death threats.
A Twitter spokesman said it had expanded the number of personnel working on abuse reports.
Garron Helm, 21, from Liverpool, was jailed for four weeks in October after admitting sending an offensive tweet to the MP.
Ms Berger said this prompted the white supremacist group to encourage people to send anti-Semitic and racist posts on Twitter.
She said: "The police told me that at its peak I received 2,500 tweets over the course of three days and I received many hundreds of others beyond those three days."
'Hosting hate'
The MP said her photograph was manipulated with violent, sexual and Holocaust imagery.
She added one picture superimposed her head on an Auschwitz inmate.
Ms Berger added: "It wasn't just online a few weeks after there were 10 people who turned up and were arrested outside my office in Liverpool."
She revealed police had given her specialist security advice and she never travelled alone at night.
When she first contacted Twitter she had the "onerous" task of reporting each tweet individually.
"I have met with Twitter and I think it is fair to say they are not doing as much as they should be," she said.
"Social media companies have a responsibility not to be hosting hate on their sites," Ms Berger added.
Twitter said its global team has reviewed abusive accounts around the clock regarding this specific situation, adding that it has worked closely with groups specialising in countering hate speech.