Stewart McLaughlin: Memorial stone for Falklands soldier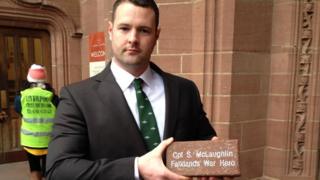 A memorial stone has been dedicated to a Falklands War soldier from Wirral whose family have been campaigning for a posthumous bravery award.
Cpl Stewart McLaughlin, a 27-year-old paratrooper, was killed leading charges towards Argentine machine-gunners in the Battle of Mount Longdon in 1982.
The brick was laid on the People's Path at Liverpool Cathedral earlier.
His brother Mark McLaughlin said the church's tribute was "fantastic" and hoped the government would follow suit.
"The church has finally recognised the achievements and the bravery of what Stewart did during the Battle of Mount Longdon.
"It's a very humbling thing and it makes the family immensely proud."
Investigation under way
Canon Paul Rattigan hoped the memorial would "add some weight to the campaign to get the Victoria Cross awarded to Stewart as it should have been".
His family have been campaigning for a medal for more than 30 years after a citation from 3rd Battalion Parachute Regiment was lost after being submitted.
The Ministry of Defence has been unwilling to consider a retrospective award.
But an investigation is under way and the decision is expected to be published in January, Mr McLaughlin said.
In July, hundreds of Falklands veterans and serving troops marched on Downing Street to call for a soldier to be posthumously recognised for bravery.