Merseyside derby late kick-off: Legal action decision deferred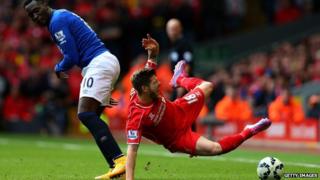 A decision to take legal action against the Premier League over the Merseyside derby kick-off time has been deferred.
Liverpool City Council requested an earlier start time to the scheduled 17:30 GMT Everton v Liverpool clash on 7 February at Goodison Park.
A spokesman said it was seeking legal advice on its position if the Premier League does not bring it forward.
The move follows concerns raised by police over a weekend evening kick-off for the derby.
The force has elevated the game to Category C which has a high risk of disorder because of the start time.
'Most challenging'
In a report to the ground safety advisory committee, Merseyside Police said it did not support the fixture being played at 17:30 GMT stating that weekend games should start no later than 13:30 GMT.
The police report said, while there was no specific intelligence indicating any organised disorder, the wider implications of a late kick-off meant they had to take action now.
Merseyside Police said: "An evening kick-off time at a weekend is undoubtedly the most challenging and gives us the least chance of meeting our responsibilities.
"It is for this reason we, the police, have specifically requested that this fixture should have a lunchtime kick-off."
Everton FC informed the Premier League of the force's objections on 9 December but the city council said it has yet to get a response from the league.
At an earlier meeting, Liverpool City Council's licensing committee agreed to defer any decision until next year when it has sought legal advice.