'Lost' seal taken from Merseyside to Norfolk for care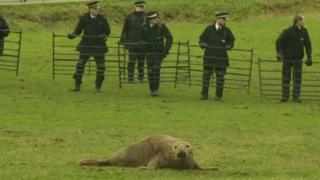 A seal found exhausted in a farmer's field miles from the sea has been transported across the country for specialist treatment.
The adult grey seal was spotted flapping against a post on Monday by a dog walker in Newton-le-Willows.
Merseyside Police, fire officers and marine specialists were called to the scene to rescue the animal.
The RSPCA said it will probably never know how the seal came to be 20 miles inland from the mouth of the Mersey.
It was believed he swam up the river and diverted off up a brook.
The seal was cornered by the RSPCA and spent a night under the charity's care at its centre in Stapely Grange in Nantwich, Cheshire.
He has now been transported almost 200 miles (320km) to the charity's specialist facility in East Winch, Norfolk.
Centre manager Alison Charles said: "For an adult seal to be that far away from home normally means they are pretty poorly so we will be keeping an eye on him to see how he gets on and giving him the best treatment we can.
"He was quite distressed when he was collected. He had a quiet night at Stapeley Grange and while he was drinking a fair amount, he did not eat anything.
"There are many reasons he could have wandered so far from home but it's unlikely we will ever find out exactly why that is."
The seal was found at Newton Brook in Newton-le-Willows, near St Helens, where police, firefighters, animal rescue officers and a farmer herded him with brooms and metal fences before putting him into an RSPCA trailer.
The sea mammal could have travelled up to 20 miles (32km) up the River Mersey from the sea, before getting "lost".