Cunard fleet in River Mersey 'carefully choreographed' sailing display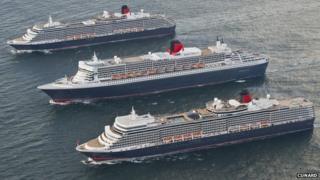 Cunard's three cruise liners will sail in a "carefully choreographed" display for the 175th anniversary celebrations of the company founded in Liverpool.
Liverpool City Council said the Queen Mary 2, the Queen Elizabeth and the Queen Victoria will meet on the River Mersey for the first time in May.
A spokesman said they would then form an arrowhead but warned the display is dependent on the weather and the tides.
Cunard made its first transatlantic sailing from Liverpool in 1840.
'Rare' event
Councillor Wendy Simon said: "It's rare for the three vessels to be in the same place at the same time, but it will be the first time the Queens will converge on our majestic waterfront."
Anniversary celebrations start from 23 to 25 May with the three Queens arrival and display but plans for a programme of events over the summer are under way.
Cunard Director Angus Struthers said: "We are looking forward to celebrating with the city when the three Queens sail into the Mersey... and welcome the plans to complement the spectacular arrival of the Cunard fleet with activities ashore."
Sir Samuel Cunard who founded the historic steamship service sailed aboard the RMS Britannia to Boston on its maiden voyage on 4 July, 1840.
The Cunard Building on Liverpool's waterfront is the most visible legacy of the city's ocean liner heritage.