Hillsborough families attend Anfield memorial service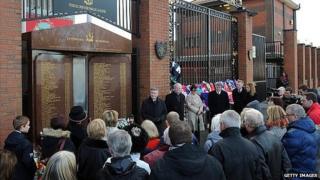 Families of victims of the Hillsborough disaster attended a service to mark the relocation of a memorial to the tragedy.
The memorial at Liverpool's Anfield stadium will be placed in storage this week as construction begins on expanding the Main Stand.
As part of the service, a specially commissioned temporary memorial was unveiled by the Centenary Stand.
The original memorial will be displayed again when work is complete.
The ceremony saw Canon Myles Davies, Vice Dean of Liverpool Cathedral, transfer the memorial's Eternal Flame to the cathedral, where it will remain during the interim period.
Liverpool FC chaplain, Bill Bygroves and former player and manager Kenny Dalglish, were among those who attended.
Margaret Aspinall, chairman of the Hillsborough Family Support Group, said: "I'd like to thank the club for involving us from the beginning of the expansion project and taking our views into account for the future of our Hillsborough Memorial.
"We decided to put it into safe storage during the construction period of the Main Stand expansion and also decided on the design of the temporary memorial so fans can continue to pay their respects."
Work on the Main Stand is scheduled to be completed in time for the the 2016/17 season.
The Hillsborough Memorial will then move to its new location in a specially designed colonnade, accessible from the Main Stand.
The Shankly Gates will also be placed in storage next week as part of the Main Stand expansion works. The gates will return to Anfield when construction is complete.
Ninety-six Liverpool supporters died after a fatal crush in the terraces of Sheffield Wednesday's Hillsborough stadium at the 1989 FA Cup semi-final between Liverpool and Nottingham Forest.
In March last year, new inquests began into the deaths of the victims in Warrington.