Transgender woman assault at Liverpool Lime Street: Attacker detained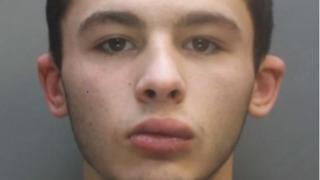 A transgender woman was attacked as she wore women's clothes in public for the first time on her own, a court heard.
Ryan Kenny, 20, from Birkenhead, admitted hitting the 25-year-old woman with her wig, stealing her handbag and punching her repeatedly while asking if she wanted to die.
He was given 20 months' detention in a young offenders institution by Judge Brian Lewis at Liverpool Crown Court.
The victim said: "I was just being myself... I don't see how it is wrong."
She also said: "I was hoping he would go to prison for six months. To be told he has gone for 20 months is just unbelievable."
The woman, who was returning home from attending a support group, said: "I still feel unsure about going into the city but I still think it is going to be some time before I am back to where I was."
'Disgraceful attack'
Police said previously she attended the group meetings with a friend who dropped out that night, but she felt confident enough to go alone.
The court heard Kenny, of Bridge Street, followed her out of Liverpool Lime Street station in March and later joked with a friend about about what he had done.
Judge Brian Lewis said it was a "disgraceful attack" on a "vulnerable" victim who was only targeted because she was transgender.
The woman, who cannot be named, reported the incident to Merseyside Police who worked with British Transport Police to trace the attacker.
A police spokesman said: "Throughout the case detectives from our anti-hate crime unit stayed in touch with the victim and met with her repeatedly to explain what was going on and how the court process worked.
"This ensured that she stayed in the process and did not withdraw her complaint against Kenny."