Drugs baron Stephen Blundell caught in Tenerife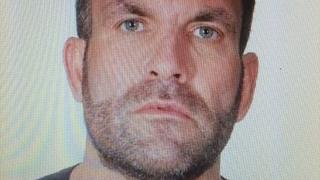 A drugs baron who admitted a £1m heroin plot but fled the country before sentencing has been caught in Spain.
Stephen Blundell, 36, formerly of Leathers Lane, Liverpool, pleaded guilty to conspiracy to supply heroin in 2013.
The National Crime Agency (NCA) said he controlled a gang that supplied "huge amounts" of the drug from Merseyside to the South West.
Blundell handed himself in at a Tenerife police station on Monday.
The group he ran included a Cornish grandmother caught transporting £50,000 of heroin under four pasties in her shopping bag.
Devon and Cornwall Police targeted Blundell as part of an investigation into the supply of drugs to areas including Bodmin, Exeter, Tiverton and Torquay.
He was jailed for nine years and eight months in his absence in October last year.
Hank Cole, from the NCA, said: "The law enforcement net was tightening and I believe he handed himself in when he realised his days on the run were numbered."
Extradition proceedings are due to begin on Thursday.