Liverpool Coastguard station in Crosby set to close its 999 service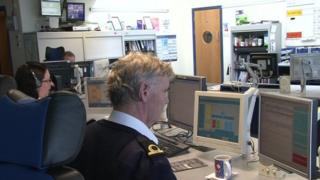 Liverpool Coastguard station's emergency call handling service will close later as part of a government reorganisation.
The station in Crosby is one of eight Maritime and Coastguard Agency (MCA) 999 response centres that are closing.
Emergencies will be handled by the Holyhead station in North Wales, which has been chosen to take the calls.
Coastguard rescue team volunteers, building marine surveyors and training will remain at the Liverpool station.
Susan Todd, MCA coastal safety manager, said: "We're confident Holyhead staff will be able to cope with the demand we're placing upon them.
"Many of our coastguard stations around the country cover several hundreds of miles of coastline at the minute."
Liverpool Coastguard covers waters from the Point of Ayr on the Dee Estuary through Merseyside, Morecambe and South Cumbria, all the way up to the Mull of Galloway.
It also covers some of the Irish Sea, up to the halfway point between the Isle of Man and Ireland.
It is thought 20 jobs will be lost at the centre in Crosby as a result of the emergency call centre closure.
Liverpool Riverside MP Louise Ellman, who chairs the transport committee, said: "I am concerned that lives could be be put in danger.
"I do think it's a matter of concern [that] local knowledge is being disregarded in this way.
"I think computerised information is important but it can't replace essential local knowledge."
Ms Todd said: "The real local knowledge is vested in the people on the coast and they are all going to remain where they are at the moment."
In 2011, the government announced eight centres would close in Clyde, Forth, Portland, Liverpool, Yarmouth, Brixham, Thames and Swansea.
Eleven UK centres would remain operating 24 hours a day.