Wallasey man jailed for killing friend over £10 debt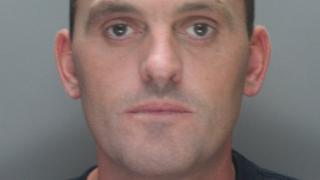 A former professional boxer killed his friend with a punch to the face which sent him backwards into a shop's metal shutters, in a row over a £10 debt.
Joseph Inglesby, 38, of Wallasey, was jailed for more than five years after admitting unlawful killing.
Inglesby's punch to Robert Higgins, 61, in July, left him on life support which was switched off two weeks later.
Liverpool Crown Court heard he rummaged through Mr Higgins' pockets, demanding money as he lay in the street.
The victim's widow Maureen called it "a deeply cowardly attack".
Inglesby, of Poulton Road, said in court he had given Mr Higgins, who he had known for 25 years, a "fair warning of what would happen if he did not pay" the debt.
He claimed Mr Higgins came towards him, saying: "If you are going to give me a crack, give me a crack."
'Regret'
The court heard when Inglesby spotted him a week later in Tuebrook, he confronted Mr Higgins, who said he did not have the money.
Inglesby punched him in the face, causing him to hit his head on a metal shop shutter.
Prosecuting, Gerald Baxter said he then pulled Mr Higgins into a sitting position before dropping him, when he again banged his head.
Inglesby left the scene but a shopkeeper, who had phoned the police, followed him and pointed him out to officers when they arrived.
He did not find any money on his victim but took a pair of spectacles, the court was told.
Mr Higgins suffered fractures to his skull and face and was taken to hospital where he showed signs of improvement. He deteriorated before his life support was switched off on 14 August.
Ian Whitehurst, defending, said Inglesby regretted his actions.
He was jailed for five years and four months.