The Beatles: Former home of John Lennon's mother to be sold at auction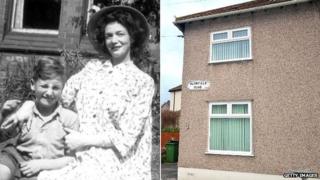 A former home of Beatles legend John Lennon's mother is to be sold at auction.
The semi-detached property on Blomfield Road, in Allerton, Liverpool was home to Julia Lennon in the 1950s.
Although John lived with his aunt Mimi in Menlove Avenue, he would regularly visit his mother and practise playing his guitar at her house.
It is due to go under the hammer with a guide price of £120,000 at Liverpool Town Hall on 31 March.
Geoff Guest, auction director for Venmore properties, said: "We're very excited about this.
'House of sin'
"John spent many years of his youth learning and practising his music under the direction of his mother, who was a great influence on his early musical career."
Lennon's sisters Julia and Jackie lived in the three-bedroom council house alongside their mother and her partner John "Bobby" Dykins.
The couple never married and Aunt Mimi is said to have referred to their home as "the house of sin".
News of the auction comes three months after a home once lived in by Lennon's fellow band member George Harrison was sold for £156,000.
Other recent sales of Beatles memorabilia have included a toilet seat once owned by Lennon - which sold for £9,500 - and one of his guitars.