Hillsborough inquests: Ambulance bosses 'not in control'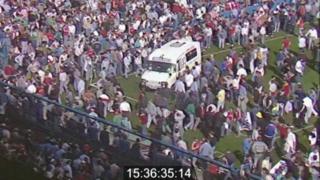 Senior ambulance officers were not in control at the Hillsborough disaster, an ambulanceman has said.
Anthony Edwards, who was among the first ambulance men on the pitch, said "systematic assessment of casualties" did not seem to be carried out.
Mr Edwards told the inquests, he "couldn't see any conceivable reason" why a nearby gymnasium was used.
Senior ambulance officers said earlier that using the pitch as a casualty clearing area was not feasible.
Responding to the challenge by Jenni Richards QC, who represents the South Yorkshire Metropolitan Ambulance Service (SYMAS), Mr Edwards maintained that decision was a "major error of judgement".
Ninety-six football fans died following the terrace crush during the FA Cup semi-final between Liverpool and Nottingham Forest at Sheffield Wednesday's stadium on 15 April 1989.
Mr Edwards said that as the disaster unfolded deputy chief ambulance officer Alan Hopkins told him to drive on to the pitch.
However, he said he and colleagues were stopped by a policeman "who said that we couldn't go on to the pitch because they [fans] were still fighting".
Despite this, Mr Hopkins leaned across and put on the two-tone horns and they continued on to the pitch, the jury heard.
"Hopkins said he didn't give 'an eff' who said we couldn't go on to the pitch," said Mr Edwards.
The jury saw video footage showing Mr Edwards and his driver Alan Vevers when they accessed the pitch, at 15:35.
He said when he arrived none of his colleagues were at the Leppings Lane end of the pitch.
'Cover-up'
But, Ms Richards said there were other qualified ambulance officers on the pitch.
Mr Edwards replied: "Not working with me there weren't. I was there on my own.
"There was a major incident with senior managers at the scene but they weren't at what I have described as the epicentre."
Mr Edwards said when they went on to the pitch "he first saw what appeared to be dead bodies - it appeared to be that people were no longer breathing and lying on their back and a couple of people were giving CPR".
He accused SYMAS of being "remiss in investigating Hillsborough properly and then that led to a cover-up".
Ms Richards said SYMAS denies there had been a cover-up.
---
Who were the 96 victims?
BBC News: Profiles of all those who died
---
The jury heard that when Mr Edwards's ambulance left the stadium it had three casualties on board, as well as a nurse and two police officers.
They included Stephen O'Neil, a 17-year-old student from Whiston, and Victoria Hicks, a 15-year-old schoolgirl from Pinner, London who both died.
The jury heard Victoria was put into the ambulance the wrong way round meaning she was not at the right end to be given oxygen on the way to hospital and Stephen had been on the floor in the middle of the ambulance.
Mr Edwards said both had "probably stopped breathing for some time".
The inquests in Warrington, Cheshire are due to resume on Tuesday.