Hillsborough inquests: Ambulance man 'plagued' by memory of injured girl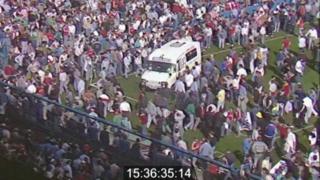 An ambulance officer told how he has been "plagued" by the memory of leaving behind a girl who was being resuscitated on the pitch at the Hillsborough disaster.
Anthony Edwards helped three injured people, including a girl aged 15.
But he said he has lived with the thought he should have helped the other victim who was being resuscitated.
Ninety-six fans died following a crush at the 1989 FA Cup semi-final between Liverpool and Nottingham Forest.
Mr Edwards told the jury he believed the injured girl left behind was 19-year-old Sarah Hicks, who later died.
But a barrister representing the family of Ms Hicks told the inquests it could not have been the teenager.
'No vehicle coming'
The jury has heard how Mr Edwards's ambulance was the second South Yorkshire Metropolitan Ambulance Service (SYMAS) vehicle to drive on to the pitch, at 15:35.
Video footage showed the ambulance leaving again at 15:40, when it had three victims on board including Ms Hicks' 15-year-old sister Victoria.
Both sisters died of their injuries.
The jury heard Mr Edwards feared he "maybe took the wrong girl" and should have taken Sarah rather than Victoria.
He told the court: "In my head - and it has been for 20-odd years - has been that somebody was resuscitating what I took to be a girl.
"They were doing that fairly effectively and I believe I left that person, those people resuscitating without... in the knowledge that no other vehicle was coming on to support them, and I have had to live with that."
But Michael Mansfield QC, who represents the sisters' parents Trevor and Jenni Hicks, said the girl he saw being resuscitated was not Sarah.
Mr Mansfield added that everyone appreciates "the pressure you were under that day" in Sheffield.
Nonetheless, Mr Edwards said he had been "plagued by this. Two people resuscitating a girl, which I later believed to be Sarah Hicks".
---
Who were the 96 victims?
BBC News: Profiles of all those who died
---
Mr Edwards also told the inquest how he saw "no co-ordination" between senior ambulance officers and senior police at the scene.
He told the jury he felt "very isolated" while he was on the pitch.
Peter Weatherby QC, who represents a group of 22 bereaved families, said there may have been four SYMAS personnel on the pitch at the same time as Mr Edwards.
But Mr Edwards said he did not see them.
He added: "I didn't expect to be, in the long term, to be the only ambulance on the pitch.
"I knew there were other ambulances arriving, so I would have expected that we would have come on together."
He agreed there was nothing that he could see "that would have stopped a train of ambulances" driving on to the pitch.
He said more ambulances would have been "helpful" and that using an ambulance as a "command post" on the field would have been a "good idea".
Recalling his journey along the pitch, he said: "As I got closer, it was very clear that this was something very big... it was a major incident.
"I had many thoughts about what was going on and what I had to do. I was aware that things were much bigger than I was able to cope with."
The inquests, sitting in Warrington, Cheshire, are due to resume on Wednesday.