Hillsborough inquests: Police questioned survivor about alcohol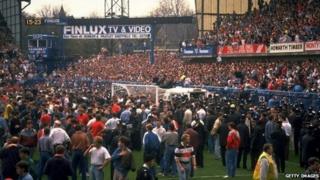 The first thing police officers investigating the Hillsborough disaster asked a traumatised survivor who nearly died was how much alcohol he had consumed that day, the inquests heard.
Liverpool fan John Davies was buried under bodies as he tried to escape from the Leppings Lane terraces.
He survived after clinging on to the trouser leg of a police officer to alert him he was still alive.
Ninety-six football fans died after the crush at the 1989 FA Cup semi-final.
Recalling being interviewed by West Midlands Police, the investigating force, Mr Davies told the jury: "Obviously it was not long after the disaster and I wasn't in a good place at the time and I'm being honestly truthful in saying the first question they asked me was how many did I have to drink on the day.
"I thought they would have been more concerned about my welfare at the time."
'Trapped behind goal'
Mr Davies had been in pen three, one of the central sections behind the goal at the Leppings Lane end of the ground, for the match between Liverpool and Nottingham Forest.
There was a gradual build up of pressure in the pen, Mr Davies said, and he was pushed up against the front of the enclosure, with his arms pinned to his side.
---
Who were the 96 victims?
BBC News: Profiles of all those who died
---
He told the inquest he couldn't move and his head was crushed against the front fence.
The pressure eased after a period of time and he was then able to move, he said.
He described how he tried to escape but "somebody fell over in front of me and I fell on top of them".
Other people then fell on top of Mr Davies, the court heard.
Mr Davies was face down on a gravel track on the pitch side of the pen, with his chest still in the gateway.
The court heard police officers encouraged him to stay there and said "they would get to him".
Mr Davies said "with the little energy [he] had left" he "clung on" to a police officer's trouser leg "for dear life".
He was eventually carried out by two police officers, who he said helped save his life.
'Hospital not prepared'
He was then taken on a stretcher by a friend, who had also been in the pen, and other fans, before being given first aid by doctors and fire officers.
The inquests also heard from an ambulance officer who said a Sheffield hospital did not appear to be prepared for a major incident after the disaster.
Stephen Williams transported a seriously injured casualty, Andrew Devine, to the Royal Hallamshire Hospital.
In a statement made in 1989, Mr Williams said he told a nurse a major incident had developed, and the nurse replied they had been informed.
But he said "they were not prepared for a major incident".
Asked what he meant by that, Mr Williams told the jury: "I can't recall why I said that. It may have been that it was very quiet and there was no sort of rushing about or, you know, moving patients around and such like.
"There was no sense of urgency particularly, if I remember."
The inquests, held in Warrington, Cheshire, are due to resume on Thursday.