Chester estate agency removes 'Studentville' signs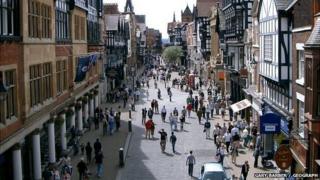 An estate agency has apologised after placing To Let signs around Chester, labelling part of the city "Studentville".
The signs, which read "We love StudentVille Chester", were removed by Matthew's of Chester after a resident contacted them to complain.
Lord Mayor Bob Rudd also wrote a letter saying the signs were "offensive" and "disrespectful" in the historic town.
The company is now in the process of rebranding their student properties.
Managing director Rebecca Matthew said: "We were happy to take them down after receiving one complaint. This actually came to us before the Lord Mayor's letter.
"Of course we're sorry for any offence. But we have also read a lot of comments from people who say they don't know what all the fuss is about."
Resident Robb Bryant wrote on Facebook "While the term is not offensive in itself, the suggestion that the area belongs to students to such an exclusive extent it can be re-dubbed Studentville - and the connotations that Studentville translates to 'partyville' - is somewhat insensitive to the non-student population in the area."