Liverpool mayor criticises 'asylum apartheid'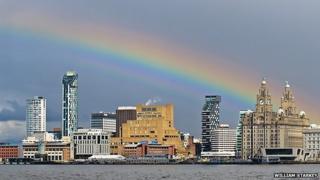 Parts of north west England are receiving a disproportionate number of asylum seekers, says Liverpool's mayor.
Joe Anderson warned of "community cohesion" problems as a result of the government's private contractor Serco sending too many to some areas.
He told BBC Radio 4's File on 4: "There seems to be a sort of asylum apartheid operating where certain cities are the ones that are taking the unfair share."
The Home Office said no area in the North West exceeded agreed limits.
The department has a convention of one accommodated asylum seeker per 200 local residents, known as cluster limits, calculated on a local authority-wide basis.
But Liverpool City Council is concerned this ratio is being exceeded in at least six wards in the city, in some by as much as 300%.
The Home Office told BBC News: "No area in the North West is above the agreed convention of one accommodated asylum claimant for every 200 of the resident local authority population."
'City of sanctuary'
According to a report written for Liverpool City Council, "the concentration of dispersed people seeking asylum in a small number of relatively poor areas of the city has potential to increase community tensions".
More than 6,000 of the 22,500 asylum seekers officially accommodated in the UK have been sent to the North West under a process known as dispersal.
Liverpool alone has just under 1,400, compared with 287 for the whole of the South East of England excluding London.
Labour's Mr Anderson said: "We'll always be a city of sanctuary and we'll always offer a hand of friendship to people fleeing countries where they're being persecuted.
"Everybody's got to play their part... [so] it's not just left to the poorest wards or areas in the city where Serco can afford to buy houses.
"It causes problems for community cohesion."
Serco is the company that provides accommodation for asylum seekers in the North West.
It said it was working in partnership with local authorities and that its approach was based on the availability of suitable accommodation.
Asylum Seekers in Dispersed Accommodation, Quarter 3 2014
North West - 6,015
West Midlands - 3,786
Yorkshire and The Humber- 3,166
Scotland- 2,544
North East - 2,419
East Midlands - 1,939
Wales - 1,938
London - 852
South West - 700
Northern Ireland - 450
East of England - 345
South East - 287
Other and Unknown - 124
Total - 24,565
Source: Home Office
Mr Anderson also criticised the use of hotels to house new arrivals.
The Red Cross said it has helped nearly 300 asylum seekers temporarily housed in hotels in the North West since October.
Antonia Dunn, a senior service manager for the charity, said: "It is really, really difficult for everybody involved because the hotels clearly aren't set up to meet the needs of people.
"They're hotels. We've been going in and providing practical assistance in terms of access to clothing, nappies, toiletries.
"People literally not having a bar of soap to wash their face with: we're talking about very, very basic needs that perhaps aren't always being met."
'No extra costs'
In a statement, Serco said: "We are currently using budget hotels on a short-term basis to house asylum seekers until we can find alternative accommodation for them.
"We move them out of the hotels into other accommodation as quickly as possible.
"The use of hotels does not cost the taxpayer anything extra.
"We ensure that the asylum seekers always have full access to healthcare services during this time."
Serco was among three private companies awarded six regional contracts totalling almost £700m to provide dispersal and accommodation services for asylum seekers over a seven-year period, in a project known as COMPASS.
The purpose of COMPASS was to raise accommodation standards and cut the bill for asylum accommodation and dispersal by around £137m over the lifetime of the contract.
But the firms - which also include G4S and Clearel - were criticised in two reports from the National Audit Office and the Public Accounts Committee last year over their performance.
The Home Office was also criticised over the way the transition from the previous local authority providers was handled.
BBC News has learned the three companies have received fines totalling nearly £6m for not meeting standards since the contracts became fully operational at the start of 2013.
The government's decision to locate the final appeals centre for failed asylum seekers, at an office known as the Further Submissions Unit, in Liverpool has also been criticised by Mr Anderson who has ordered legal action over the issue.
He fears it could lead to more than 5,000 extra asylum seekers coming to Liverpool each year.
"My view is that they probably won't return to their last address; they'll probably want to stay in Liverpool if they've lost," he said.
'Managed chaos'
The mayor said Liverpool City Council was not consulted and was only informed by email.
The Home Office has since put the plans on hold but Mr Anderson described the new final appeals regime as "managed chaos".
In response, the Home Office said: "These changes will apply only to failed asylum seekers whose claims have already been refused.
"They will significantly speed up decision-making, enabling us to grant protection more quickly to those who genuinely need it.
"Attendance at the Home Office centre in Liverpool will be strictly by appointment only and there will be no requirement for anyone to stay in the area overnight."
According to Home Office figures, the number of asylum seekers coming into the UK is considerably lower than it was 10 years ago, though the numbers have been rising in the last few years.
File on 4 is on BBC Radio 4 at 20:00 GMT on 10 February and repeated at 17:00 on 15 February.