Rob Hayles bids for bike speed record with ARION1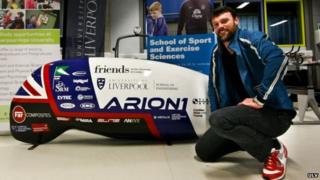 Multiple Olympic medallist Rob Hayles will attempt to break the world cycling speed record in September.
Hayles, 42, will join Warwickshire nurse Natasha Morrison and sales executive Ken Buckley, from Reading, in a bid backed by University of Liverpool engineering students.
They will challenge the male and female records at the World Human Power Speed Challenge (WHPSC) in Nevada in the US.
Hayles said he was "delighted" to have been selected from 35 candidates.
"The testing was rigorous and I can't wait to start putting into practice the specialist training," he added.
Hayles, who retired from professional cycling in 2011, has won two World Championship titles along with three Olympic medals at Sydney and Athens.
All three riders will individually attempt the record on a bike - or velocipede - known as ARION1, lying back in a recumbent position.
Portsmouth-born Hayles and Buckley will aim to cycle faster than the current male land speed record of 83.13mph (134 km/h), while Morrison will try to break the female record of 75.69mph (122 km/h).
To put this into context, the world's top cyclists hit a peak speed of around 60mph (100 km/h) on mountain descents in the Tour de France.
Despite the triumphs of British cycling in recent years, the UK has never held the record for the fastest bike.
However the latest bid follows an unprecedented collaboration from Liverpool's three universities.
Patrick Harper, lead ergonomics engineer at the University of Liverpool Velocipede Team (ULV), said: "Everything feels like it is falling into place. We've spent a long time planning the project, putting the structure in place and testing for the best riders."
Former world cycling champion Graeme Obree, often called the Flying Scotsman, has also built a bike to help his son Jamie break his own 2013 record for a rider in the prone position at the September contest.