Hillsborough inquests cost £6.6m to set up, figures show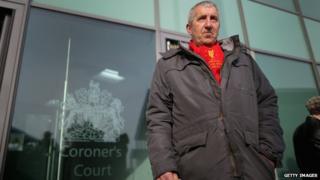 The new Hillsborough inquests cost £6.6m to set up, according to figures released by the Ministry of Justice.
It is the first set of accounts published by the government which show the cost of the hearings into the 1989 disaster, in which 96 fans died.
The figures cover February 2013 to March 2014, before the start of the new inquests in Warrington, Cheshire.
Hillsborough Family Support Group Chairwoman Margaret Aspinall said "you can't put a price on the lives lost".
The new inquests were ordered after the original inquest verdicts were quashed in 2012.
---
Who were the 96 victims?
BBC News: Profiles of all those who died
---
Mrs Aspinall, whose son James, 18, died at the FA Cup semi-final between Liverpool and Nottingham Forest, said: "Although I know it's rather upsetting really to hear about how much it has cost, we've got to remember it has cost a lot of lives as well.
"The lives that went and were taken that day... the upset, the hurt, the pain. We've had this for nearly 26 years."
The inquests are being held in a purpose-built courtroom, the biggest in England and Wales, constructed in an office building in Birchwood Park, Warrington.
Accommodation including fitting out the court was the biggest cost at £3.1m.
The accounts show £2.2m was spent on the coroner's legal team but the expenditure for other barristers and solicitors for the Hillsborough families and the police have not been included.
Mrs Aspinall said: "Families have had to look and fundraise for every step of the way to where we are today.
"This is the only time we've ever had help for inquests. We paid, we were travelling up to Sheffield every day for a generic inquest, travelling to Leeds for a private prosecution.
"It has cost a lot of families their lives, those who would love to be here with us today.
"Money, you can earn money again, you can never bring them lives back.
"You can't put a price on them lives.
"It's a shame that again the poor taxpayers have got to pay but there's nothing we can do about that."
The inquests started on 31 March with statements about the Liverpool supporters who died in the crush at Sheffield Wednesday's stadium.