Man stole from suicide boy's memorial charity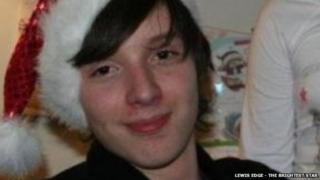 A man has been found guilty of stealing from a charity set up in memory of a teenager who took his own life.
Mark Faulkner, of Dykin Road in Widnes, stole nearly £1,200 from Lewis Edge − The Brightest Star fund during the autumn of 2012, Cheshire Police said.
The 26-year-old had been a coffin-bearer at Lewis's funeral after the 14-year-old's death in July of that year.
Lewis's mother Lisa Millward said her family felt "betrayed" by Faulkner. "He had everyone fooled," she said.
The charity was set up to help local teenagers after Lewis's parents received donations in his memory.
Having heard of the fund, Faulkner approached the family and befriended them, offering to help them run it.
'String of excuses'
Det Con Marc Roberts said: "He gained their trust and was given the important job of paying two amounts of cash into the fund but instead of doing that he preyed on their vulnerability and chose to keep the funds for himself."
Ms Millward became suspicious when a bank statement revealed a lower balance than expected, police said.
After she asked Faulkner for the return of the bank book, he gave her a "string of excuses", including that his car had been seized by police and he was not allowed to recover his property from it, a police spokeswoman added.
Mr Roberts added: "Faulkner always maintained that he had paid the money into the account − knowing only too well that he had used it to line his own pockets.
"This has been a traumatic time for Lewis′s parents in particular − having to deal with the loss of their son and then finding out that money, which had been raised in his memory to benefit the whole community, had been stolen by someone they trusted and thought was their friend."
Faulkner is due to be sentenced at Warrington Crown Court on Wednesday.