Pub chain scraps disco for people with learning difficulties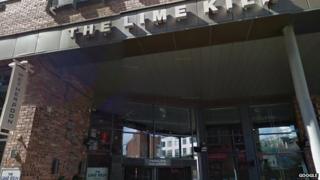 Campaigners are urging a pub chain to reverse its decision to cancel a disco for people with learning difficulties in Liverpool.
Organisers of the weekly event said they were told the discos will be scrapped in three weeks time by bosses at pub chain J D Wetherspoon.
Local councillors and business leaders have pledged support for the organisers Active Community Enterprises (ACE).
JD Wetherspoon said it could not accommodate the disco at the Lime Kiln.
Darren Guy, of ACE, said the event had been running for nine years from 11:00 to 15:00 in the bar in Fleet Street.
He added: "It is hugely successful - we get hundreds of people coming from right across the north west because it is such a nice vibe."
"We just got told it didn't really fit in - that's all we were told."
Regular Michael, from Woolton, said: "Without this disco I would be sitting in the house going completely crazy. We've got friends and family here and everyone is so happy being here."
Labour Councillor Michelle Corrigan said: "It makes no sense really, it is not as if Wetherspoon's are not making any money."
Licensee Stephen Fitzsimmons, who runs city nightclub Cream, said he was saddened as a local licensee and called it "an image conscious decision".
A Wetherspoon's spokesman said: "What was once a late night, club style venue, with DJs seven nights a week, is now a pub where more customers than ever come to enjoy a meal and drinks.
"In recent months, we have had to turn customers away, on a Tuesday, as there has not been enough room to accommodate them, due in part to a section of the pub being used for the disco."