The Beatles: Paul McCartney's childhood home sells for £150,000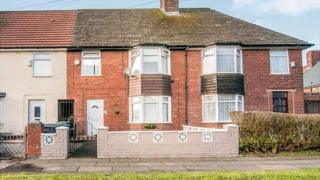 The Liverpool childhood home of Beatles legend Paul McCartney has sold for £150,000 at auction.
The terraced house in Western Avenue, Speke, was where the musician lived with his parents from 1947 until the mid-1950s.
McCartney's mother Mary worked as a midwife at the time, and the family are said to have been well known in the community.
The sale was held at Liverpool's Cavern Club where The Beatles often played.
Beatles guide Paul Beesley said: "This is an important house because it's where Paul spent his formative schoolboy years.
'Lots of interest'
"He was exposed to music from an early age and his dad had a jazz band. Paul's first instrument was the trumpet.
"There's an interesting anecdote about the lady who moved into this house after the McCartneys left. She found a Rupert the Bear book in the loft, which was signed with 'this book belongs to Paul and Mike McCartney [Paul's brother].'
"Paul was a big Rupert the Bear fan and he actually met this lady after hearing she had found the book."
Stephen Giddins, of estate agents Entwistle Green, said the property sold well above the guide price of £100,000.
"We are delighted for our client, as we were consciously aware that there was a lot of interest in the property and we wanted to ensure that this translated into achieving the best price possible for them," he said.
News of the auction comes three months after a home once lived in by McCartney's fellow band member George Harrison was sold for £156,000.
Other recent sales of Beatles memorabilia have included a toilet seat once owned by John Lennon - which sold for £9,500 - and one of his guitars.